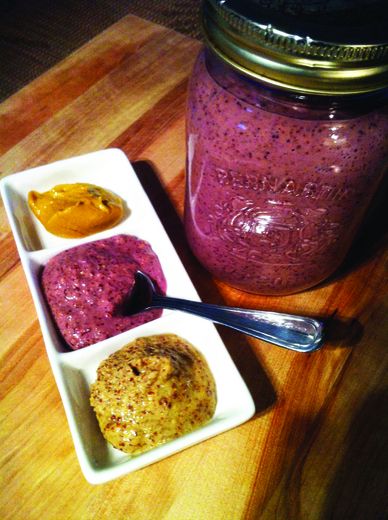 I admit it, I am addicted to mustard! I can count at least seven different varieties of open jars in my fridge, all in varying stages of emptiness.
It's a problem I can deal with.
With that being said, mustard is one of the easiest and cheapest condiments you can produce yourself. Today I am going to make Merlot Grainy Mustard using a bottle of Dirty Laundry Cabernet Merlot 2010. As I have said before, if you won't drink it don't cook with it. Flavor and quality always matter.
This mustard will go perfectly on anything from a sandwich to your favorite roast. At the end of the recipe I will add some alternatives to the red wine version. Like all food, play around with it until you achieve your version of perfection. The merlot version comes out a beautiful pink colour.
INGREDIENTS
1 cup Dirty Laundry Merlot 2010
1/2 cup yellow mustard seeds
1/2 cup brown mustard seeds (sometimes called black)
1 cup red wine vinegar (cider, malt white wine or champagne will also work)
Salt to taste
DIRECTIONS
Place the two varieties of mustard seeds into a non-reactive bowl. Pour the red wine vinegar and the merlot on top of them. Stir and cover with plastic wrap. Leave this bowl covered on a counter for one to two days. Do not be tempted to speed this process along with a little bit of heat. Mustard does not react well to heat and you will lose the flavors you are looking for.
After the mustard seed mix has sat a day or two the seeds will have absorbed the vinegar and merlot flavors.
Empty the contents of the bowl into a food processor or use a hand immersion blender and process until you get the texture you are looking for. You are never going to get the fine texture of Dijon mustard. If you find it is a bit thick add a little bit of water to achieve the smoothness you want. Mine needed no extra liquid. Add the salt to taste and a bit of brown sugar if you want to add some sweetness to it. Give it one last mix. Bottle in a mason jar and store in the refrigerator. This will last up to a month in the fridge. If you are anything like me though, it will only last a couple weeks.
Now you may be tempted to use immediately, don't. It will be a little harsh at this stage. Its flavor will mellow in a day or so. It will also thicken slightly.
Variations on the recipe:
If making a variation you will want to remove the red wine aspect of the recipe and replace it with water or a desired flavoring liquid and the vinegar of choice.
VARIATIONS
Honey — 4 tbsp.
Tomato — 2 tbsp. tomato paste
Port instead of Merlot
Tarragon — 2 tbsp. fresh tarragon
Rosemary — 2 tbsp. fresh rosemary
Balsamic — 3 to 4 tbsp. balsamic vinegar
Creole — 1/2 tsp. cayenne pepper
Mango — 1/4 cup mango purée and 1/4 cup mashed fresh
Roasted garlic — 4 tbsp.
Horseradish — 2 tbsp. horseradish sauce