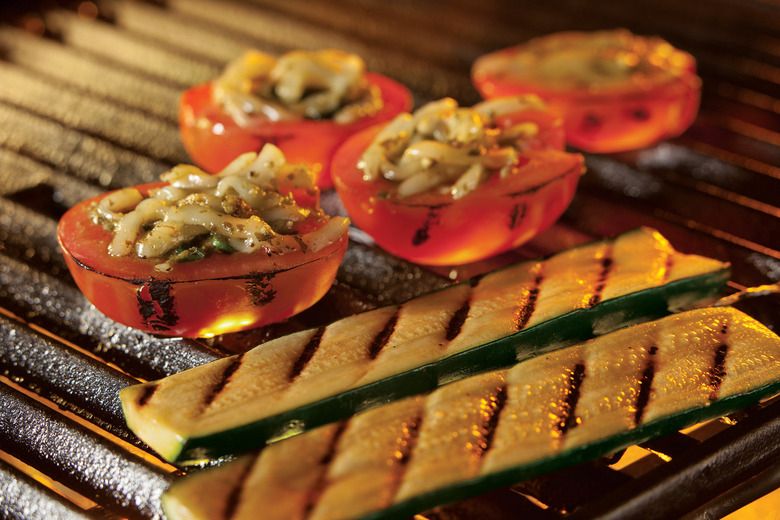 Part of the joy of summer grilling is not having to spend a hot summer night in a hot summer house over an even hotter stove, stirring things in pots and pans when you could be in the open air on the deck, relaxing while flipping a couple of steaks. If all you needed was a steak or a burger, you'd be set. Rounding out a meal with sides means you may have to spend some extra time in the kitchen – unless you use the barbecue for that task, too.
You could easily resort to standard barbecue-cooked sides like foil-wrapped baked potatoes or grilled corn on the cob. But if neither one of those strikes your fancy, here's a different option worth considering: Grilled Tomatoes with Pesto.
With only five ingredients, this recipe is easy to pull together in a pinch, but tastes like it was planned in advance. Using store-bought pesto makes this recipe extra easy, but you can also whip up some homemade pesto in advance and stash it in the freezer for just such an occasion. As for the combination of basil, garlic, cheese and tomatoes? It's a match made in heaven.
—–
GRILLED TOMATOES WITH PESTO
4 Roma tomatoes, halved lengthwise
1/4 cup (50 mL) store-bought or homemade basil pesto, divided
1 green onion, thinly sliced
1/2 cup (125 mL) shredded mozzarella cheese
2 tbsp (25 mL) chopped fresh parsley
Scoop top 1/4 inch (6 mm) pulp out of halved tomatoes. Spread 1 tsp (5 mL) pesto over each tomato half. Sprinkle green onion evenly over tomatoes. Combine remaining pesto and cheese. Top tomatoes with cheese mixture. Place tomatoes on a grill topper or directly on barbecue grid on natural gas barbecue. Grill tomatoes over medium heat until tomatoes are heated through and cheese is melted, about 10 – 15 minutes. Sprinkle with parsley. Serves 6 – 8.
ATCO Blue Flame Kitchen's column on healthy eating for busy families runs Saturdays in Fort McMurray Today. For tips on energy safety, food or household matters, call 1-877-420-9090 toll-free, email [email protected] or visit us online at atcoblueflamekitchen.com. Connect with us on Twitter at @ATCOBlueFlame, on YouTube at youtube.com/TheBlueFlameKitchen and on Pinterest at pinterest.com/ATCOBlueFlame.