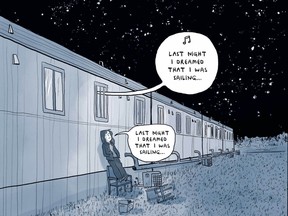 Article content
Like a lot of people, Kate Beaton came to Fort McMurray in 2006 as a 22-year-old woman with a plan to make money in the oilsands and leave. That's exactly what happened.
Article content
Her memoir, Ducks: Two Years in the Oil Sands, is not a feel-good memoir ending with the Cape Bretoner settling in Fort McMurray. Her 448-page graphic novel does not rush to defend or condemn the oilsands. In fact, her experience living in camps and working at different oilsands sites was miserable.
Article content
But plenty of people have opinions about Fort McMurray and the oilsands, Beaton said in an interview with Fort McMurray Today. Those are based on political campaigns or headlines. It's never the day-to-day reality of the lives of the workers.
Beaton's book shines a harsh spotlight on the loneliness, depression and physical toll felt by many oilsands workers who are far from their homes. She experiences misogyny and harassment from her male coworkers.
Article content
The now 39-year-old cartoonist also paints a sympathetic picture of her coworkers, most of whom are kind and normal people making a living for loved ones back home. Not everyone will like what Beaton shows, but the book is just what she saw.
Some moments could not fit in the book, such as drug abuse in the hallways of her downtown apartment or resentment Fort McMurray residents felt towards transient workers like herself.
Beaton estimates she had enough material for a book three times as large. What she has published has been praised from critics. It was recently listed by former president Barack Obama as one of his favourite books of 2022.
The book is also a time capsule of life as an oilsands worker during the halcyon days of the last oil boom that ended when global oil prices plummeted in late 2014. Today, the population isn't swelling with newcomers. The Newfoundlander's Club is a Halal restaurant. The municipality's 2021 census showed Albertans are more likely to move to Fort McMurray than any other province.
Article content
"If you're not involved in the industry, I feel the image is very distorted," she said. "Most people associate it with these images of gigantic trucks and huge mines, but they rarely think about the human beings inside them."
This interview has been edited and condensed for space and clarity.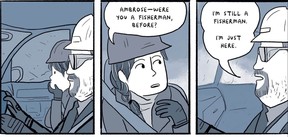 Ducks is a brutally honest look at life in the camps during the early boom days. Was it your intention to avoid condemning or defending the oilsands industry?
Oil and gas and mining is so polarizing. There are a lot of people who see it as all good or all bad. Nothing is like that. There are lots of grey areas and that's true in any industry.
My goal was to write an honest account, if I could, about my time there. If people who worked there and it rings true, I feel I've done my job. Of course, it's only my experience. Other people will have different experiences, but if they see the truth in it, I feel I've done well.
Article content
Academic studies, labour groups, workers and workplaces have acknowledged that assaults, depression and suicide are problems for camp workers. What was it like when you worked there?
There's a CBC documentary called Digging in the Dirt and it's about the mental health struggles from workers. People are talking about it, but you would have never seen those conversations in 2005. There's a reason people say camp is like a jail.
There's a coworker in the book going through something and he went to the services the company offered, but it didn't help. The companies weren't prepared to deal with the realities of life in the camps. When someone was going through a crisis in their real life, like with their family, it wasn't the problem of the company. But that followed them to the work site.
Article content
I don't know what it's like now, but I have lots of relatives and people from my area who still go. I see what they go through, so I have an inkling of what it's like now.
The camps are different and some are better than others. But it doesnt replace the fact you've lost your community. Instead, you're in a temporary space that's outside of normal society.
I find in a lot of interviews I've done, people don't understand the difference between the camps and the town because they lump everything into Fort McMurray.
I know people are annoyed at that, but I know the camps put the same pressure on the town by having the shadow population using the health care facilities or utilities, or young guys coming in and f-ing up the town.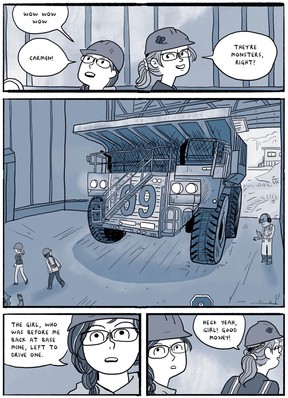 A theme of the book really seems to be a meditation on what is a community
Article content
In the epilogue, my sister got sick and the first people to gather and send her money were her coworkers in Fort McMurray. She was still working out there. They were the people in her life who could afford to do that. There's someone in the book who says coming out here is the first time I could afford being generous. That was a community, wasn't it?
Some people come and go, others show up at different sites and form a mobile community. Eventually you see familiar faces, even as a contractor.
It's a book about empathy. You're talking about the lives of people. I see in reviews they often say its a place not many people know about or that it seems impenetrable. To you and me, it's not because we're very connected.
There's people we know and care for and love who are there and still there. It never felt like a mysterious place to me.
Article content
It won't be revelatory to any of your readers, but understanding the humanity of Fort McMurray and the people who work in the oilsands is good for the rest of the country. It's not all something Jason Kenney said or a picture of a dump truck.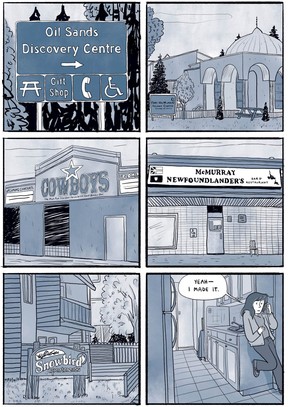 What are your own private thoughts about the oilsands?
It's complicated. I wouldn't be doing what I'm doing if I hadn't gone out there to pay off my student loans.
I know it's damaging to the environment, that oil and government go hand-in-hand. I often talk about cancer rates in Indigenous communities that are downstream from oil sites. I also know that Fort McKay is economically successful and involved in the oil industry, but what other options do they have?
I also see a lot of families here who have a hard time with the fly-in, fly-out culture. At the same time, it brings them more money that they wouldn't be able to find otherwise. It seems it's always weighed by different things. You won't find me giving you a yes or no answer on it.