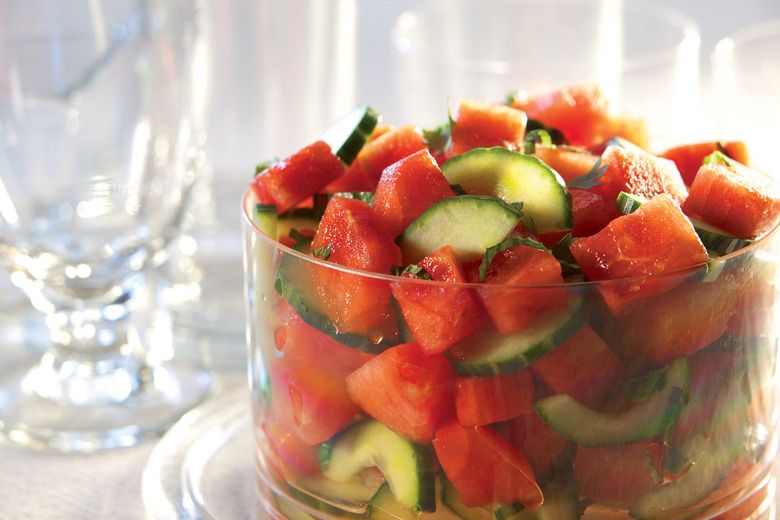 Leafy lettuce and other greens are great for summer meals where you want light instead of heavy, cool instead of hot. Freshly made fruit salad is also a summer favourite, be it served as an appetizer, as a side or as a dessert.
This Watermelon and Cucumber Salad is technically a fruit salad – cucumbers are, after all, fruit – and has a much more substantial, filling quality to it than a lightweight bowl of lettuce-based greenery. The lime juice and cucumber keep the sweetness in check, while herbs add to the complexity. Cilantro and fresh mint bring a bright, lively freshness to the mix, and the cilantro partners well with the lime.
An unexpected addition is hoisin sauce, which is more commonly used in stir-fries and other Chinese dishes. It's both sweet and savoury, but it works well with the tartness of the lime and the sweet, cooling aspects of the watermelon and cucumber.
For an even more refreshing salad, be sure the watermelon and cucumber are well chilled before slicing them up.
—–
WATERMELON AND CUCUMBER SALAD
1/4 cup (50 mL) fresh lime juice
3 tbsp (40 mL) hoisin sauce
3 cups (750 mL) seedless watermelon chunks (1 inch/2.5 cm)
3 cups (750 mL) sliced seeded English cucumber (1/2 inch/1.25 cm)
1/4 cup (50 mL) chopped fresh cilantro
3 tbsp (40 mL) slivered fresh mint
To prepare dressing, whisk together lime juice and hoisin sauce until blended.
Combine watermelon, cucumber, cilantro and mint in a bowl. Add dressing and toss to coat. Serve immediately. Serves 6.
Cook's Note: Cucumber should be halved lengthwise, seeded and then sliced crosswise before measuring.
—
ATCO Blue Flame Kitchen's column on healthy eating for busy families runs Saturdays in Fort McMurray Today. For tips on energy safety, food or household matters, call 1-877-420-9090 toll-free, email [email protected] or visit us online at atcoblueflamekitchen.com. Connect with us on Twitter at @ATCOBlueFlame, on YouTube at youtube.com/TheBlueFlameKitchen and on Pinterest at pinterest.com/ATCOBlueFlame.