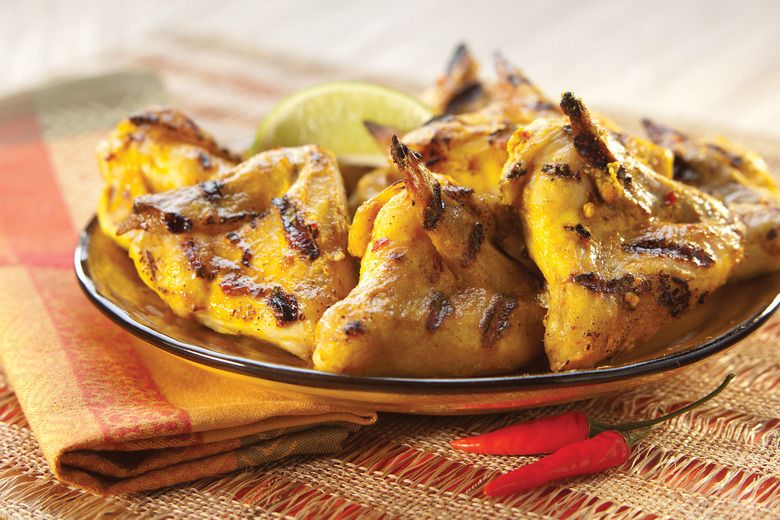 There's nothing dainty about chicken wings. They're unrepentantly messy finger-food, perfect for sharing over pints in a pub, or while watching a game on the big screen. But have you ever made wings at home, from scratch?
These two recipes make whipping up a batch of wings a snap.
Madras Wings use spices found in Indian cuisine to make a flavourful marinade. While these are spicy, they're only as hot as the quantity of red pepper flakes you add.
Buffalo Chicken Wings are a more familiar bar staple, and it's hard to argue with the short, simple ingredient list.
Both recipes benefit from ample marinating time, so plan ahead and prep them the day before entertaining.
MADRAS WINGS
1/4 cup (50 mL) plain yogurt
2 tbsp (25 mL) fresh lime juice
1 tbsp (15 mL) curry powder
1 tsp (5 mL) ground cumin
1/2 tsp (2 mL) ground ginger
1/2 tsp (2 mL) red pepper flakes
1/2 tsp (2 mL) salt
1/4 tsp (1 mL) cinnamon
1/4 tsp (1 mL) garlic powder
2 lb (1 kg) chicken wings
To prepare marinade, combine all ingredients except chicken in a heavy zip-lock plastic bag. Add chicken and squeeze bag to coat chicken with marinade. Seal bag and place on a plate. Refrigerate, turning bag occasionally, for at least 2 hours or up to 24 hours.
Remove chicken from marinade; discard marinade. Place chicken on a grill topper or directly on barbecue grid on natural gas barbecue. Grill chicken over low heat, turning occasionally, until chicken is cooked through, about 40 – 45 minutes. Makes about 12.
BUFFALO CHICKEN WINGS
2 lb (1 kg) chicken wing drumettes
6 tbsp (90 mL) oil
2 – 6 tbsp (25 – 90 mL) hot pepper sauce
2 tbsp (25 mL) white wine vinegar
Place drumettes in a heavy zip-lock plastic bag. Combine, oil, hot pepper sauce and vinegar. Pour over chicken and toss carefully. Refrigerate for 8 hours or overnight. Place chicken on a rack in a shallow pan. Bake, uncovered, at 425ºF (220ºC) for 40 – 45 minutes, or until chicken is cooked through. Makes about 24.
ATCO Blue Flame Kitchen's column on healthy eating for busy families runs Saturdays in Fort McMurray Today. For tips on energy safety, food or household matters, call 1-877-420-9090 toll-free, email [email protected] or visit us online at atcoblueflamekitchen.com. Connect with us on Twitter at @ATCOBlueFlame, on YouTube at youtube.com/TheBlueFlameKitchen and on Pinterest at pinterest.com/ATCOBlueFlame.