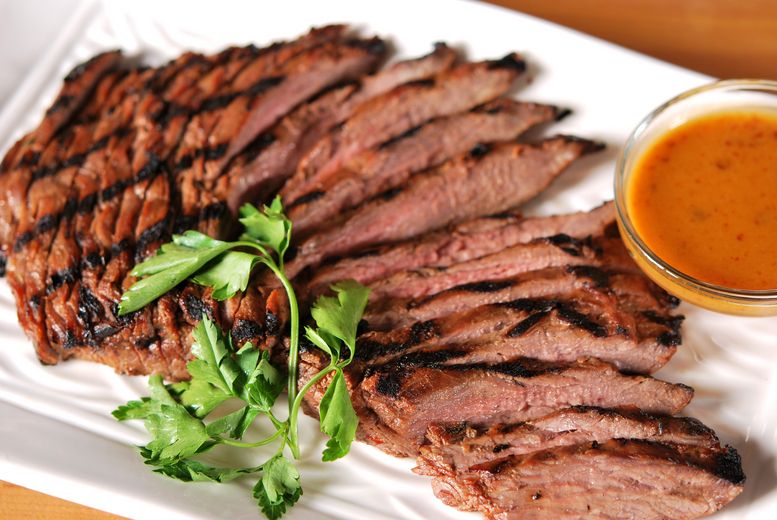 Can you eat a steak with your hands? You can when it's our Smoky Mustard Flank Steak. Sliced and served in tortilla shells, it's a fun finger-food meal fit for a hungry family.
While the Dijon mustard adds some savoury flavour, the addition of honey and orange juice concentrate adds some sweetness. In addition to the smoky flavour contributed by the grill, the extra smoky character comes from the chipotle pepper sauce, which adds heat as well as depth.
—-
SMOKY MUSTARD FLANK STEAK
This lean but flavourful cut of beef is best grilled to rare or medium rare. It must be sliced very thinly for maximum tenderness.
1/4 cup (50 mL) Dijon mustard 1/4 cup (50 mL) honey
2 tbsp (25 mL) thawed frozen orange juice concentrate
2 tbsp (25 mL) water
1 tbsp (15 mL) chipotle pepper sauce
1/4 cup (50 mL) soy sauce
1 1/2 lb (0.75 kg) flank steak
6 flour tortillas (8 inch/20 cm), warmed
To prepare sauce, combine mustard, honey, orange juice concentrate, water and chipotle pepper sauce. Cover and refrigerate half of sauce; reserve to serve with steak. To prepare marinade, combine remaining sauce and soy sauce; pour into a heavy zip-lock plastic bag. Add steak and squeeze bag to coat steak with marinade. Seal bag and place on a plate. Refrigerate, turning bag occasionally, for at least 12 hours or up to 24 hours. Remove from refrigerator and let stand for 20 – 30 minutes. Remove steak from marinade; discard marinade. Grill steak over medium heat on natural gas barbecue to medium rare, about 15 – 20 minutes. Let stand for 5 minutes before slicing. Using a sharp knife held at a 45° angle, slice steak against the grain into thin slices. Serve steak in tortillas with reserved sauce. Serves 6.
—
ATCO Blue Flame Kitchen's column on healthy eating for busy families runs Saturdays in Fort McMurray Today. For tips on energy safety, food or household matters, call 1-877-420-9090 toll-free, email [email protected] or visit us online at atcoblueflamekitchen.com. Connect with us on Twitter at @ATCOBlueFlame, on YouTube at youtube.com/TheBlueFlameKitchen and on Pinterest at pinterest.com/ATCOBlueFlame.