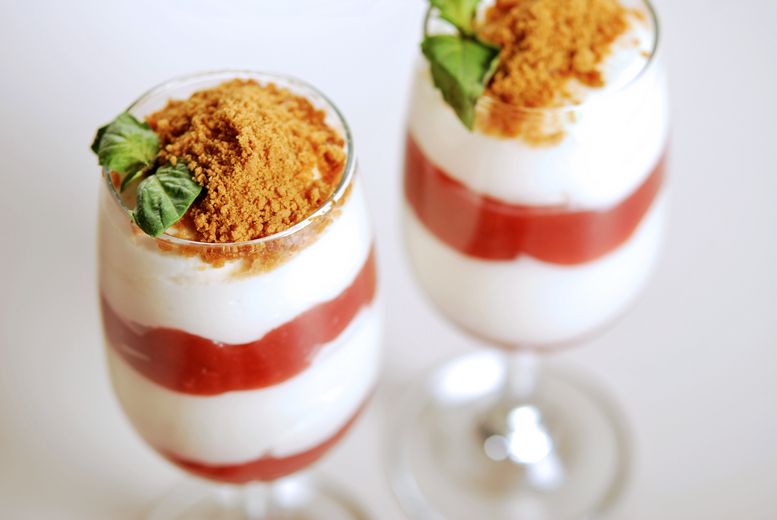 Rhubarb is a summer delight, a treat to be enjoyed in all sorts of baked goodies during the warm months, when the backyard rhubarb patch is producing bundles of tangy and tart stalks.
The natural thing to do with abundant rhubarb is to make Strawberry Rhubarb Pie – we've got a great recipe for that on our website, if you're interested.
But if you're looking for something a bit different, our Rhubarb Parfaits must be tried to be believed. They're creamy, rich and fruity, and that signature rhubarb tartness is accented by the light spice of gingersnap. If you're having guests over (or if you'd just like to treat yourself to something nice for dessert), serve them in wine glasses to show off the colourful layered effect of the rhubarb and cream filling.
RHUBARB PARFAITS
4 cups (1 L) diced rhubarb
1 cup (250 mL) sugar
1/2 tsp (2 mL) grated lemon peel
1/2 tsp (2 mL) vanilla
2 cups (500 mL) whipping cream
1/2 cup (125 mL) icing sugar
2/3 cup (150 mL) sour cream
2 tbsp (25 mL) orange liqueur
2/3 cup (150 mL) gingersnap crumbs
Combine rhubarb, sugar and lemon peel in a nonreactive saucepan. Bring to a boil over medium heat, stirring constantly. Reduce heat and simmer, stirring occasionally, until rhubarb falls apart and mixture is thickened, about 15 – 20 minutes. Remove from heat and let stand for 15 minutes.
Transfer mixture to a blender; puree until smooth. Transfer mixture to a
bowl. Stir in vanilla and cool completely.
Using medium speed of an electric mixer, beat together whipping cream and icing sugar until soft peaks form. Add sour cream and liqueur; beat until stiff. Using half of each, layer rhubarb mixture, whipped cream mixture and crumbs in 6 parfait glasses or wine goblets. Repeat layering with remaining rhubarb mixture, whipped cream mixture and crumbs. Cover and refrigerate for at least 1 hour or up to 24 hours. Serves 6.
ATCO Blue Flame Kitchen's column on healthy eating for busy families runs Saturdays in Fort McMurray Today. For tips on energy safety, food or household matters, call 1-877-420-9090 toll-free, email [email protected] or visit us online at atcoblueflamekitchen.com. Connect with us on Twitter at @ATCOBlueFlame, on YouTube at youtube.com/TheBlueFlameKitchen and on Pinterest at pinterest.com/ATCOBlueFlame.